I made a homeless sim in the Sims 3. I made a little dilapidated looking park, and moved him into it. Technically this is his "house".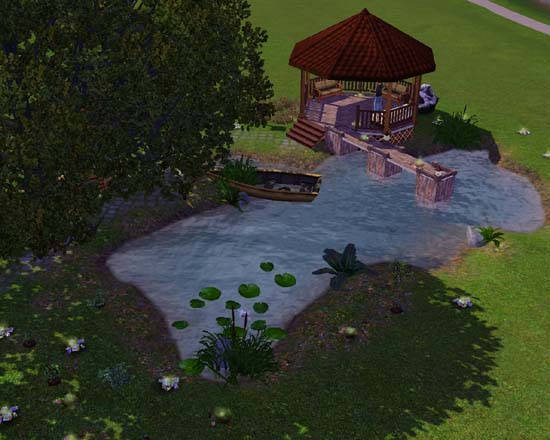 Click image to view full.
Basically, you make a sim that has the mooch trait (and whatever else you think would be useful). Then you move him into an empty lot and waste his money on something so he's down to nothing. Then you go to the city park or something and mooch food and money off the people, and sleep on the benches.

My homeless dude has these traits: mooch, loves the outdoors, slob, unlucky, and loser. He's already been kicked out of a few houses for "acting inappropriately" when he tried to shower or sleep in someone else's bed. He's also been yelled at countless times for rummaging through people's garbage.

Speaking of rummaging through garbage... See that huge rock behind the gazebo in the screenshot? He found that in someone's garbage. I'm trying to make the dude a poor homeless bum, and he goes and digs a gigantic $3,480 space rock out of someone's garbage. And yes, the garbage can was a lot smaller than the rock. Go figure...

In none of the Sim games before this was it possible to be homeless. You learn where you can go to eat, shower, and so forth in your neighborhood/town. The city park is a good place to get food. The people there are kind when you're mooching food, or you can grab a plate from the nearest picnic basket. The public pool or the gym are good places to get a shower.

Overall, in the Sims 3 you have a much wider variety of choices for how your sim will make a living.

EDIT: So I had him analyze that gigantic rock to find out what it was made of. Turns out it was made of Charbonaceous Chondrite and actually worth over $20,000. *sigh* Why can't I keep this guy poor?!