As with anywhere, this island has a few geological shapes that by chance resemble something recognizable. It's human nature to try to see faces in places there are none, this phenomenon is called pareidolia.

Here's one example from the topographical maps around here. Notice the names of the points: Brow Point, Nose Point, and Chin Point. This picture was taken aboard the Taku Alaska ferry on May 28th, 2009.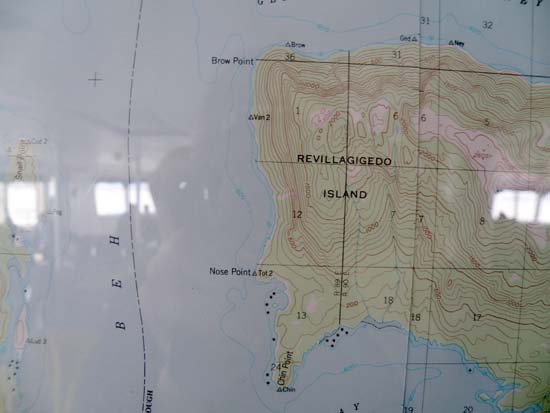 Click image to view full.
Here's a satellite view of the same place in an embedded Google map:

That's just a small area of the much larger Revillagigedo Island, the very island that I live on and hosts the town of Ketchikan, Alaska. Random fact: it's the 12th largest island in the United States, with an area of 1,063.65 square miles and 309 miles of coastline.

The town is exactly South of this on the map, if you look far enough.