Yeah, I know... The text is too small. Just view the full size.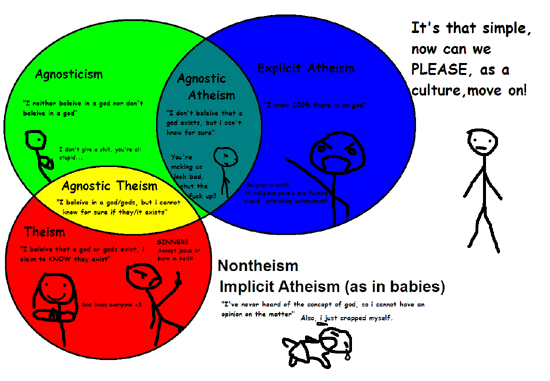 Click image to view full.
So I guess I'm making us (atheists) look bad... I know 100% that there is no God
1
. Much in the same way I know square circles can't exist: it's a confliction of terms.
For example God can't be all powerful AND benevolent
2
, because the world we live in is not a perfect one
3
. You don't need absolute knowledge of the universe to figure that out.
1:
"God" as defined by the major religions, anyway.
2:
Of course I'd say the God of the Bible is malevolent and even if He did exist He does not deserve our praise.
3:
Don't you dare use the "free will" argument. Not all imperfection stems from human will; earthquakes, illness, and aging for example. Mankind's free will is physically limited anyway.