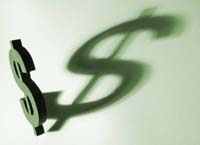 Yesterday I officially I received my first payment from the Google AdSense ads. I was paid $119.71 USD. You don't get paid until your balance is over $100. Once you pass $100, you'll get paid at the end of the next month. It sure took me long enough to get there, but I've noticed an increase in the last few months, so it shouldn't take as long the next time around.

So now that the blog is paying for itself, I went ahead and bought ad-free hosting from GoDaddy.com. I was waiting for that payment before I spent any more money on the blog. I wasn't all that pleased how long it took to login and use the in-browser interface with the hosting to upload files. So, remembering a recent Hive Five post on Lifehacker about FTP clients, I looked at what ranked the highest there and downloaded FileZilla. I like it.

Since I don't have that annoying GoDaddy banner ad (from the free ad-supported hosting) at the top of the Blog Supplement pages, I removed the old ones that were on the googlepages domain. Please update your bookmarks accordingly.

I know there have been a lot of posts lately talking about the updates here. I've been doing a lot behind the scenes, and it's just what's on my mind currently.