Because somehow it is relevant...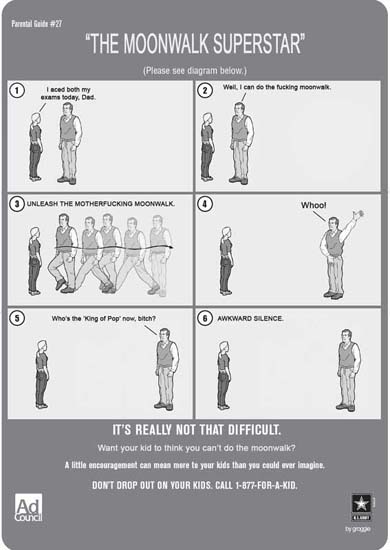 Click image to view full

If you have bad eyesight and can't quite read the text in the image even when you view full, here's what it says:

Parental Guide 27.
"THE MOONWALK SUPERSTAR"
(Please see diagram below)
1. I aced both my exams today, Dad.
2. Well, I can do the fucking moonwalk.
3. UNLEACH THE MOTHERFUCKING MOONWALK.
4. Whoo!
5. Who's the 'King of Pop' now, bitch?
6. AWKWARD SILENCE.
IT'S REALLY NOT THAT DIFFICULT.
Want your kid to think you can't do the moonwalk?
A little encouragement can mean more to your kids than you could ever imagine.
DON'T DROP OUT ON YOUR KIDS. CALL 1-877-FOR-A-KID.