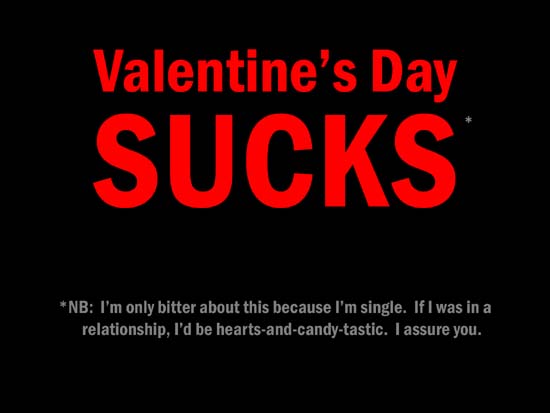 Click image to view full
I've been using that image as my desktop background on one of my computers since before
last
Valentine's day. See, I don't just hate Valentine's day one day of the year, I hate it on all 365 (or 366) days of the year.

Just every aspect of it is sickening. They don't even try to mask the commercialism; rather they try to break up the relationships for those who don't spend money on it. It's a horrible reminder of loneliness for those who are single. And, pink isn't really my color.

Last year I even went through extreme measures to try to skip the day. I had stayed up for 3 days, then went to bed midnight before Valentine's Day. My plan was to sleep through most of the day, thus "skipping" it. Didn't work... I woke up at my normal time, like I hadn't stayed up for 3 days beforehand.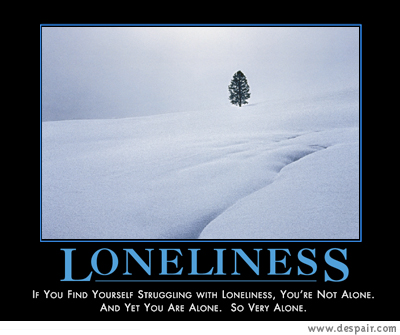 I never have liked the day, even back in elementary school. We'd make little construction paper mailboxes, and get little Valentine's day cards from other classmates. I always had the fewest; only cards from those who got them for the entire class. Even then I was sometimes forgotten. One year I got a rock.

The picture says, "NB: I'm only bitter about this because I'm single. If I was in a relationship, I'd be hearts-and-candy-tastic. I assure you." When I first saw that I wondered what NB meant, as you'd expect a PS. After I looked it up, I found it to mean Nota bene, turns out it was more fitting than PS. A PS is more of an after-thought, whereas NB calls to attention the context in which it was said. You see, I learned something. Who said nothing good ever comes from hate?

So, if I were not single, would I really be "hearts-and-candy-tastic"? Probably not. I'm the type that would make a distinct understanding that both of us are to ignore Valentine's day all together; treat it as any other day. Of course, she'd probably think it's just some cover for a surprise, and be disappointed when I really don't do anything. So the day would still screw me over.