Wells Fargo has a relatively new feature they call Card Design Studio. It allows you to choose and upload an image for your credit or debit card. So naturally, I uploaded an image of the Flying Spaghetti Monster.

Here is a sample version of the card1: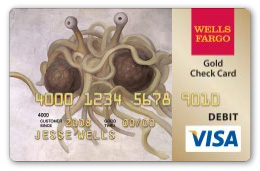 I couldn't sneak it past them. It was not accepted. Too bad, that would have been a sweet card. Clearly, they have not been touched by His Noodly Appendages...

They have a these rules pertaining to what is and isn't acceptable:
For all images you must:

Own the image or have permission from the owner to use the image on your card

Images must not include:

Trademarks, advertising, or branding. Business cardholders are, however, permitted to use their own business's logo, name, or tag line.
Telephone numbers, URLs, account numbers, or email addresses
Imagery that features cartoon characters or public figures such as celebrities, musicians, athletes, or entertainers
Imagery or messaging that is violent, offensive, or anti-social; contains nudity or obscenity; or is political or religious in nature
Symbols representing money or other content that might result in confusion at the point of sale, or that might result in card fraud

I've bolded the one that I think it killed it. I don't see what the harm of religions images on a personal card would be, but whatever. Anyone have any new ideas for what should be on the card instead?

1: Sample version only. Not an actual card; not a valid card number or name.