Well, my Flying Spaghetti Monster design was denied, but my second submission was accepted.

Presenting the Sea-Monkey Wells Fargo card1: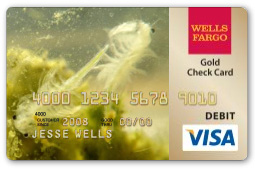 You may recognize the picture from my recent post about my Sea-Monkey food order. I would of course have preferred the FSM, but at least this way I have something unique. I get to carry around a picture of my sea-monkeys. And like the title says, it's better than the default stagecoaches.

I like what one of the comments said on the FSM card post:

While such a card would be, to say the least, a thing of beauty, it's kind of good it was rejected, if it was rejected for the reason you suppose. In that case, this is just more public acceptance of pastafarianism as a religion.

If something as crazy as Scientology gets to be an official religion, then Pastafarianism should have no trouble. Seriously, I think I'd convert if Pastafarianism were an official religion (at least for the purpose of census polls.)

1: Sample version only. Not an actual card; not a valid card number or name.