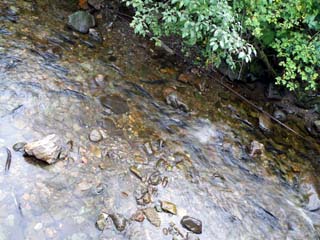 How many times have you loaded a page and started to read it, only to have it jump around because the pictures are still loading? That won't happen here now. I have specified the size of each picture in every post. That way the browser knows the size of the picture on its first pass and will start out with a space that size for the image. So when the picture loads, the text won't jump around to make room for it.

It might be worth it to go back and re-look at some of the photos I've put here in the past. Now when you "click to view full" you'll actually get the full-sized image; usually 2560x1920 pixels if it's a photo I took. The picture to the right is a good example; it is fish swimming upstream, I took the picture on August 31st (of 2008). Before, I had to shrink the "full size" images down or else the Picasa hosting would do it for me. They'll shrink down any image with a dimension over 1600 pixels. Now that I have my own hosting, I can provide the true full-size. It took some time to re-find the originals of the photos and upload them, but it was worth it.

Just under half a gigabyte of pictures (461 MB) have been moved over to the host. With this slow internet connection I have, I was uploading at a rate of about 0.4 MB every minute. So that 461 MB represents over 19 hours (1,153 minutes) of uploading (yes, have pity on me). It was spread out over the past week and a half, but that's still a long time to spend uploading. And that doesn't include the time I spent re-touching-up the original pictures in a photo editor and re-writing the html code for each image.

Each picture now has its own unique ID I can link to. If I want to talk about any specific picture I've put here in the past, all I have to do is link to it like this, and the page will automatically scroll down to the image when it loads. In that example I linked to a view of Ketchikan from my little trek over on Gravina Island.

If you're subscribed to my webfeed, sorry if things have been jumping around out of order. Some readers organize entries by date edited rather than date created. It should calm down now that I'm done with updating the pictures.