Last night I was playing with long exposures. At first I started when it was still too bright outside. I got mostly white images. Later (10:30-ish PM) I got a picture. With a long exposure of a road, all you see are the trails of the headlights and tail lights of the cars; not the cars themselves.

You can see by the trails this picture, one car pulled up and stopped at a red light, and another came from the Plaza parking lot and went up Washington Street. 5 second exposure.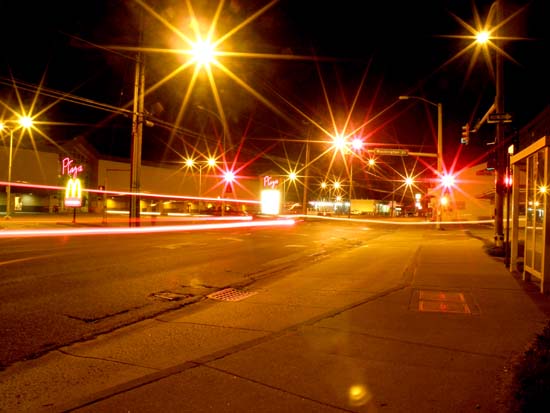 This is one of the ones that were a bit too bright, but I like the phantom effect on the people with the stroller to the right of the image. I played around a little in Photoshop, trying to bring out the details in an otherwise overexposed, over-bright image. It was taken before the image above; while it was still fairly light out. 14.18 second exposure.