A moment of silence for Zelda Zenge, my Sims 3 Legacy founder. She has passed away at 92 days old. (lifespan set to 90 days)

...

It's almost a beautiful thing when a Sim dies of old age. Her husband Erick, 2 days older than she was, is still alive. That's him near the bookcase.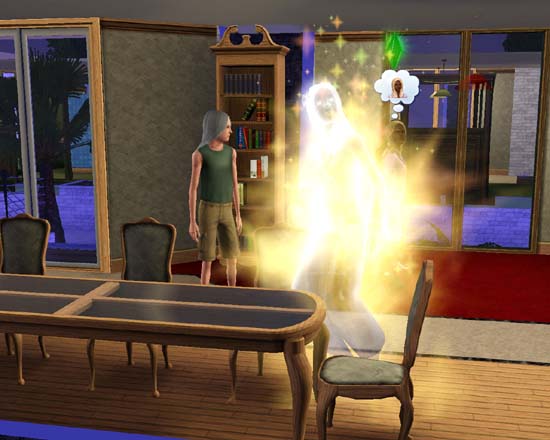 Click image to view full.
She didn't quite achieve everything I wanted her to. She had written 25 books and was working on a Masterpiece of writing when she died. I only wish she would have survived long enough to finish it. Her life was rather shorter than I expected. She was a Vegetarian and had completed the Marathon Runner challenge; both of those were suppose to extend her life. Yet she died before her husband who had neither of those.

At least she was surrounded by all her family when the Grim Reaper came for her. From left to right: Jake (son), Zelda (the ghost herself), Lillian (daughter), Grim Reaper, Linda (granddaughter), Bonnie (granddaughter), Burton (son-in-law), and Erick (husband).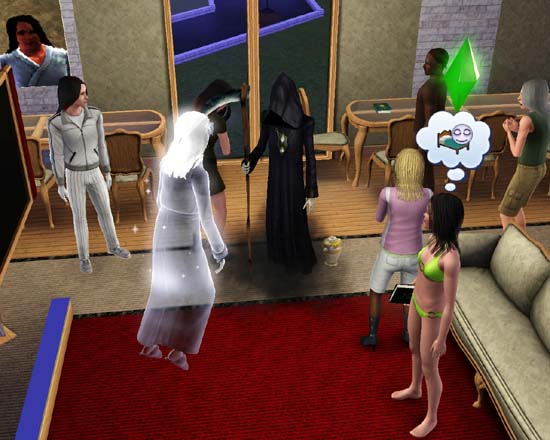 Click image to view full.


Legacy Point total of 16.
Generation: 3
Lifetime Wish: 4
Portraits: 5
Net Worth: 2
Aspiration: 2

Creepy enough for you yet, Monique?