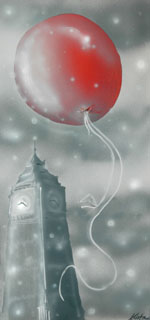 Quick tip: don't put a $12,000 engagement ring inside a helium balloon. One man in London figured that out the hard way. He wanted to "pop" the question; instead, the question floated away. Perhaps this was a blessing in disguise, however. She's refusing to talk to him until he gets a new ring. If that's all that matters to her, he's better off without a ring.

Those of you observant enough will notice minor changes in the blog's template. However, under the surface it was a rather large update. I've switched the blog over to the new CSS layout I've been working on. Just one step closer to the merging of Realm of Marf and Master Marf. I've got it set up so the blog and my additional webpages (when I add them) use the same CSS file, so I can make a tweak to the template in the one CSS file and have it apply everywhere.

I'm still open for suggestions for what games and such to add.