I've seen this image before, and it holds a lot of truth: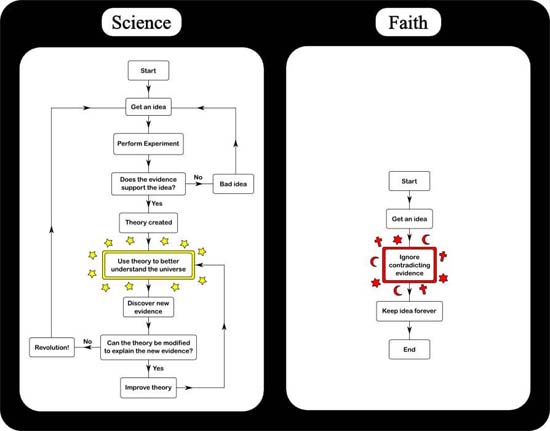 click image to view full
The problem with faith, it has to be rigid. The bible is the "word of God" and "God's word shall stand forever"
[Isaiah 40:8]
, "God's word is perfect"
[Psalm 19:7]
. Someone with a religious faith can't admit their faith might be wrong about anything, because that would shake the foundations of their beliefs. How can it be the word of a perfect God if it's wrong?

Questioning one's faith is a scary endeavor. You might realize all that you thought you knew is wrong. Years of your life studying the bible and going to church wasted. It's much easier to just ignore the contradicting evidence. After all, ignorance is bliss.

Science doesn't have that luxury. If a theory has contradicting evidence, it has to be explained or the theory is thrown out. It doesn't matter if the theory was someone's life work; if it's found to be wrong it's wrong. You don't just ignore the contradictions and continue to teach the theory as if it's fact.

This brings me to philosophical contradictions. These philosophical arguments make too many assumptions. They try to compare two dis-similar things and assume they follow the same rules. An example would be an engine and a life form; an engine has a designer, so therefore the life form must as well. Or a mountain was created by volcanic activity (like Hawaii), therefore all mountains must have been as well (note: most major mountain ranges were created from tectonic plate movement, not built from volcanism). A philosophical contradiction is not evidence, because it is not a fact or even observed. It's based on and created with assumptions.

Now I'll sit and wait for the comments that say scientific experiments are also based on assumptions, and science is nothing more than philosophy itself. Well I've got news for you; the difference is, science is tried and tested. Philosophy is good for coming up with ideas, but they need to be tested before they become "evidence".