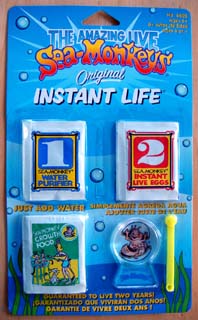 Because of an unusual interest shown by my readers, I'm talking about sea-monkeys again. I was going to wait until May 16th (that's National Sea-Monkey Day) to talk about them again. I've had mine for at least 10 years, so whatever I'm doing must be working.

Sea-monkeys are little brine shrimp on the order of ½ - ¾ inch long as adults. They can be found in most toy stores in sealed freeze-dried packages like the one pictured to the right. It's also possible to buy them with a tank included, but you can use any 12 ounce (354.5 ml) container. Or, of you use more than one package, you can have a bigger container. I think the plastic cashew container I have mine in is 48 ounces, so I used 4 packages.

When you start, it's best to use bottled or rain water, all the chemicals like chlorine in tap water is not good for them. Pour packet #1 into the water and stir until dissolved. Then let that sit for 24 hours. Packet #1 neutralizes harmful chemicals and metals in the water, and also has the salt the sea-monkeys need. They are brine shrimp, after all.

After the 24 hours, open and pour in packet #2, and stir gently. Packet #2 is the eggs and a little food. Some of the eggs will hatch once they hit water, thus they call it "instant life". Although you may not see them right away, they are extremely small, smaller than the period at the end of this sentence. If I were you, I wouldn't expect to see them until a day or two pass.

About 5 days after you put in the eggs, it's time to start your feeding. You feed them once a week from the green food packet, with the small end of the yellow plastic spoon that came with them. Just one level small spoon-full a week is all they need. Any more and their water will get cloudy, and they could die. If their water gets cloudy, stop feeding until it clears up. On adults, you can tell if they're getting enough food by looking at the dark strip on their underside that runs the length of their body. This is their digestive track, and as long as it's dark they're just fine.

When their water level evaporates down about 2 inches, re-fill their tank with bottled or rain water. You never need to use another packet #1, because the salt remains in the tank and doesn't evaporate with the water. As the water level goes down, the salt content of the remaining water gets a little higher and causes the sea-monkys to molt (shed a layer of skin) so they can grow more. So it's important to allow the tank level to evaporate down before re-filling. Never change the water... You'd throw the babies out with the bath water so-to-speak. There's also no need to clean out molted skin or dead sea-monkeys.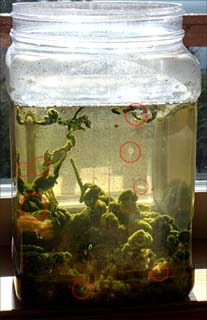 A sea-monkey colony is a little unstable until you get the clumpy blue-green algae to grow. This will take a while. I think this algae comes from their food packet. Once it takes hold, you can all but stop feeding them; the algae will provide for them. The picture to the left is of my tank (click the image for full sized), about 11 months ago. The red circles are around visible sea-monkeys in the picture. As you can see, I have a fair amount of algae.

There are 2 types of algae that can grow in a sea-monkey tank, one good, one bad. The good type is the clumpy blue-green algae I spoke of above. The bad type is a green slime. If you're getting the slime, the tank is getting too much sun light and could cause an algae bloom. The slime grows fast, and much of it dies in the night and is eaten by bacteria, and that consumes the oxygen in the water that the sea-monkeys need, so they will suffocate.

I recommend a moderate amount of sunlight. The temperature of mine is anywhere from 62-75. 62 is probably a little cold. For the most part whatever temperature the room is at is fine.

So that's the basics of caring for them. Long-term care on the order of years requires progressively less feeding as the algae grows. I only dump the small end of the feeding spoon every other month or so with mine now.

You'll notice the blue-green clumpy algae will create bubbles and float to the surface when it's in the sun. Those are oxygen bubbles, and as long as the algae sinks again afterwards, there's no harm in it floating. However, you don't want it to always be floating. Sea-monkeys do need to reach the surface from time-to-time, and they can't if there's too much algae floating. This is why I cleaned my tank just the other day. There weren't too many adults left...

Eventually, you'll get too much of the clumpy algae (like I did) and you'll want to fish out some of it with a wire. I used a bent paper clip. Don't remove all the algae, because they've become dependent on it. A nice layer covering the bottom is what you want. One thing I did was mix up a batch of packet #1 and replace the volume of algae I took out. I figured the algae I took some of the salts with it, so I wanted to replace that.

I already have tons of babies flourishing since I've cleaned the tank, so I think my colony is going to last a while longer. They survived a move into this house a few years ago. I'm gentle when I move their tank, and I make sure I don't knock it over. If I knocked over their tank or dropped it, that would be their end.

For any more information, go to the Sea Monkey Worship Page or the Official Sea-Monkey Site.